Either you are looking for an activity for a rainy day or you want to amuse children and teach them to create new toys, there is a trend that is spreading all around the world, craft felting.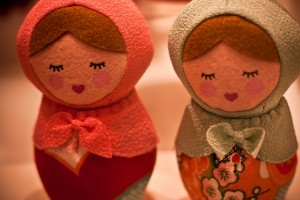 There is no limit to your fantasy. You can literally create anything. This year, you can surprise relatives with something original and funky. You can reproduce an old sweater that your auntie gave you to Christmas and you never wear. The only thing that you need is a creative idea and quite afternoon. And the internet is full of ideas.
Hypoallergenic pets for kids
Do you like animals but it is time consuming for you to take care about them? The solution is right in front of you. With a little help of felt, glue and other components, you can create your own little private Zoo in the middle of your living room. The animals might be 2D, as pictures that you can put on a wall, or 3D, realistic figures. Working with felt is easy and funny, you do not need to use sewing machine, so it is appropriate for children as well.
Little felt secret garden
There is no better gift to a woman than a flower. Cute flowers may be used as decoration to your hair style, an original bronche to sparkle your clothes, or even a bride bouquet, that will stay fresh forever. In short, use your imagination and decor what you like. One way how to create, first to make a draft, draw on the paper all your ideas, colour them, and see, what to add and how would it look like. You can inspire by ideas that are on the internet.
Eating with eyes
Do you feel hungry? Enjoy yummy foods without putting on weight. No more calories. You can use final products as decoration at the table setting, or as toys for kid's kitchen. Instead of sand cakes, create with them permanent felt ones. Create your own fruit bowl to put on the table. Enjoy every season, and adjust your creations. Change Christmas and Easter atmosphere with lovely felt eggs and gingerbread men.
Boost your wardrobe
The best feeling is to have something unique, that no one other wears. And when it is something that you created by yourself, the feeling is inimitable. Show your style and improve your personal style. You can even create felt clothes for the youngest. As the felt is eco-friendly material, it won't scratch you and thanks to its characteristics, it is waterproof. After you kids would play in autumn in the dirt at the garden, you don't have to worry no more. The felt is easy to clean. For yourself, you can make bags that are playful with the original touch of your identity.
Felt craft is for everyone, who enjoys handmade activities and prefers to create rather than buy.